SUCCESS STORY NIHON KOHDEN EUROPE
Business Partner Compliance in Medical Engineering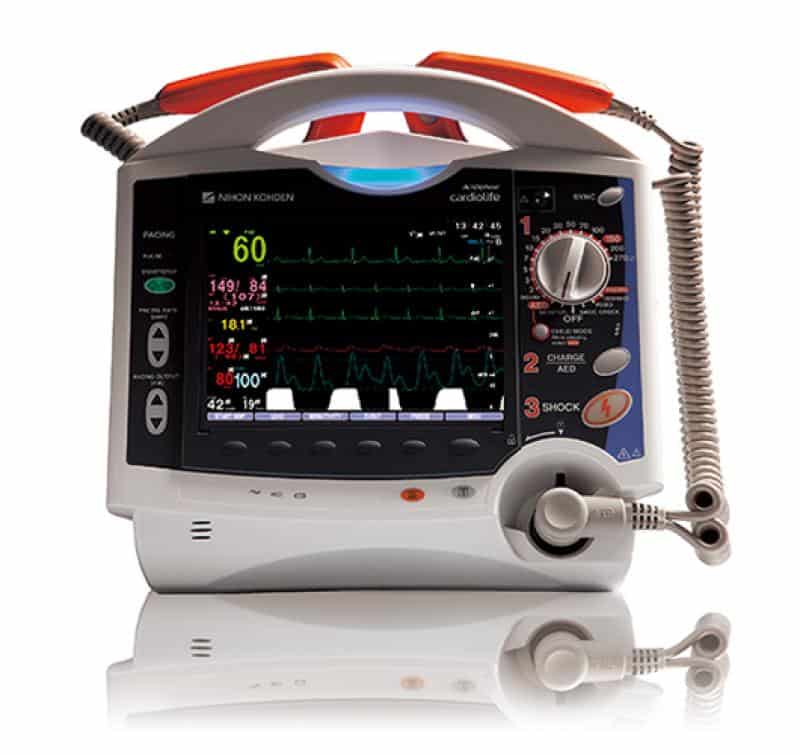 About Nihon Kohden Europe
Founded in 1951 in Japan, the parent company Nihon Kohden is a leading provider of reliable and state-of-the-art medical technology with more than 5,000 employees around the world. Nihon Kohden Europe GmbH, with its six subsidiaries serving as local headquarters, is responsible for the entire European market including the CIS region and offers cutting-edge technology in the fields of cardiology, neurology, patient monitoring and in vitro diagnostics.
The challenge: Process digitalization
A large number of business partners (and thus audits to be carried out) represented a huge, time-consuming task for the compliance department of the medium-sized company. Nihon Kohden Europe relied on traditional paper processes and spreadsheet software for several thousand business partners. Since tooling for comprehensive business partner due diligence is a major driver of efficiency, speed, and accuracy, the potential for complete process digitization at NKE Compliance was very high.
It was also important for the responsible managers that the selected IT solution was running in the cloud ("Software-as-a-Service") and guaranteed the highest standards in data protection and information security. The big step towards 100% digitalization of business partner compliance finally led NKE to PROXORA.
Digitalizing our Business Partner Due Diligence process not only saves us time and money, which can now be used again for other tasks, but also means that we are technically fully up-to-date.
The cooperation with PROXORA was very positive, productive and always at eye level, so that we were jointly able to achieve the goal of a paperless Business Partner Screening really quickly.
The road to a solution
The Third Party Management module of the PROXORA platform enables efficient and holistic business partner due diligences. The integrated standard process of the IT tool was adapted to the special needs of the medical engineering industry in a series of intensive workshops. It was also important for NKE to initially import a large amount of business partner data into the new system.
Focused meetings, clear communication and a very good understanding of a digital business partner process on the customer side helped to realize the project swiftly. Since the solution also fully covered all other requirements of the medium-sized company for a digitalized process, an early go-live could be carried out smoothly.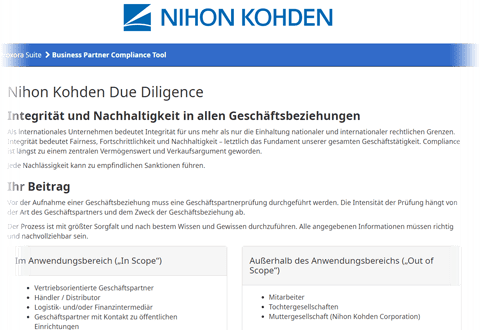 Fast results
The system's approximately 40 NKE users from ten organizations now audit the company's many business partners efficiently, without paper and in an audit-proof manner. Thanks to multilingualism in German/English and the high level of user-friendliness, the tool has been very positively received throughout.
The further digitalization of compliance areas by PROXORA, such as case management and the administration of gifts & hospitalities, further increases the benefits of the platform already set up for Nihon Kohden Europe.
We were able to quickly convince Nihon Kohden Europe to use our proven standard process. The initial effort before go-live was thus kept to a minimum.
We are pleased that with NKE a large SME from the medical engineering sector was able to implement our solution virtually "out-of-the-box" and thus completely model its entire process!
PROXORA's tools for your success story
Download the Success Story of PROXORA and Nihon Kohden Europe and our compliance solutions, the PROXORA Compliance Ecosystem with the Third Party Management Tool:
Our Third Party Risk Management
Benefit from our solutions
Want more info? Let us show you our solutions in a demo!
Get your free and detailed info material now.